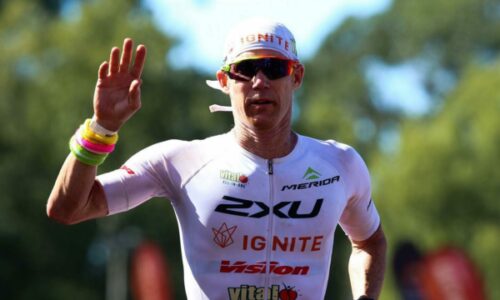 Kiwi Ironman legend Cameron Brown, from Dannemora, has accepted a role as head of triathlon at Saint Kentigern College.
Brown has more than 30 years of racing in the sport, winning 15 Ironman races, podiums at Ironman World Championships and hundreds of wins throughout his years and he continues to do so.
This year in March Brown had an historic 10th victory at the Kellogg's Nutri-Grain Ironman New Zealand.
"I've had a passion for the sport of triathlon ever since I did my first race back in the summer of 1987. Some 30 years later I'm still competing and loving it," said Brown.
"As I get older I seem to appreciate the sport more and more. It's great to reminisce about the past but the future of triathlon continues to grow.
"I was lucky to start the sport back in the late '80s as we had the likes of Rick Wells and Erin Baker as our Kiwi heroes. Both won the first ever Triathlon World Championships back in 1987 so it was always great to be standing next to them on the start line.
"As a junior I raced pretty well winning the New Zealand Secondary School Triathlon Championships in 1988 and then made the move to being a professional triathlete as soon as I left school in 1990."
In 1992, he finished second in the ITU World Championships as a junior and then tried his luck competing on the ITU World Cup season for many years in the hope of one day qualifying for the Olympic games in Sydney in 2000.
"My best ever race on the world cup circuit was a third behind Australian great Brad Bevan and 2004 Olympic champion Hamish Carter. I never had the speed on the run like these guys so decided to try my luck in the Ironman," said Brown.
"I had always watched the New Zealand Ironman in March each year, one day hoping to race. That day happened in 1997 when I competed in my first ever Ironman in St Heliers. I had a shocker but I had caught the bug of Ironman and found my true distance in triathlon.
"My first victory at Ironman New Zealand came in 2001 when I ran down the ITU World Champion Peter Sandvang from Denmark who held a 12 minute lead off the bike."
He has had countless victories since.
"We welcome Cameron and his expertise to mould the next generation of multisport athletes at Saint Kentigern College," Saint Kentigern College said.


Source link https://www.times.co.nz/news/ironman-star-to-head-triathlon-at-st-kents/