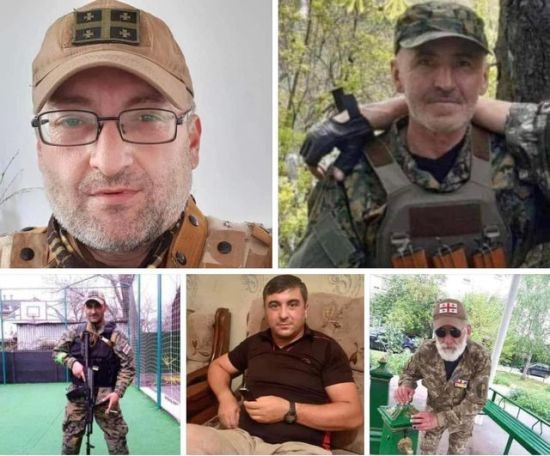 Now, other Georgian soldiers who are fighting in Ukraine are going to Bakhmut to collect the bodies of their fallen comrades.
On December 3, near Bakhmut, Donetsk region, a group of Ukrainian and Georgian volunteers from the 57th brigade was surrounded. As a result, five Georgian soldiers died and their commander was wounded.
About this reported Head of the President's Office Andriy Yermak.
"They fought under Bakhmut for light against darkness. Freedom unites the best people in the fight against autocratic evil. I feel very sorry for our Georgian brothers. And also thank you for the fact that these days we are fighting together. We must win for the sake of freedom, for the sake of Ukraine and Georgia. And to take revenge. Because we have only one enemy. Bakhmut is a city of titans," Yermak noted.
What is known about the death of Georgian volunteers
Previously, about the death of Georgian soldiers on the air of the TV channel "Mtavarivolunteer Gocha Horava said.
According to him, these heroes, having arrived from Georgia, fought in March as part of the 57th brigade of the Armed Forces.
"There were many (enemies) and that's why they didn't manage, 5 Georgians died. Many more of our brothers, Ukrainians, died. The situation in Bakhmut is very difficult," Khorava said.
He added that now other Georgian soldiers fighting in Ukraine are going to Bakhmut to collect the bodies and help their compatriots.
Embassy of Ukraine in Georgia called names of fallen Georgian heroes. These are volunteers Avto Rurua, Roland Kvaratskhelia, Romeo Pichkhaya, Merab Aladashvili and Badri Markelia.
The situation near Bakhmut and in the city itself: the latest news
According to Andriy Yermak, near Bakhmut, fierce battles continue every day. The occupiers throw all their forces into battle.
"Constant artillery work, pictures as if from the First World War, gloom and corpses of enemies who are not even taken from the battlefield. They lay down their lives by the hundreds without an idea, without honor," added the head of the OP.
We will remind that fierce fighting has been going on in Donetsk region for the past few months. The Bakhmut direction is one of the most difficult President Zelenskyi regularly emphasizes.
Brigadier General of the 93rd Brigade Ruslan Shevchuk, talking about the tactics of the invaders near Bakhmut, said that it is the Russian command that calls its military "disposable".
According to Oleksiy Reva, the head of the Bakhmut city military administration, the situation in Bakhmut is so difficult that it is impossible to identify the dead and disassemble the debris.
According to the Armed Forces, the Russian Federation loses near Bakhmut every day more than 50 people. The same number of occupiers are injured.
The adviser to the head of the President's Office, Oleksiy Arestovich, assures that the Russian troops will not be able to capture Bakhmutand even more so – to go to the administrative borders of Donetsk region.




Source link https://tsn.ua/ato/bilya-bahmuta-zaginuli-5-gruzinskih-dobrovolciv-yihnogo-komandira-poraneno-2216008.html