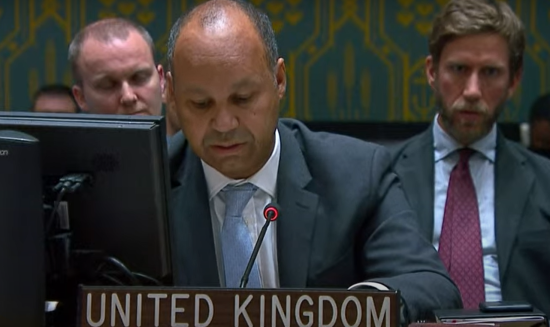 Russian "referendums" on the territory of Ukraine are a violation of the territorial integrity of an independent state and the UN charter.
Russia held the so-called "referenda" under machine guns to justify their presence on the territory of a foreign state.
James Karuki, Permanent Representative of Great Britain to the United Nations, said this during his speech on September 27.
"The holding of pseudo-referendums by Russia in the Donetsk, Luhansk, Zaporizhzhia and Kherson regions of Ukraine is an undisguised violation of the sovereignty and territorial integrity of Ukraine and the UN Charter. This process is illegal and illegitimate. This is undisguised propaganda that tries to explain the presence of Russia on the sovereign territory of Ukraine. We saw these Russian methods in Crimea. Now it's playing out again. Misinformation, intimidation and fabrication. As my country's foreign minister said last week, we know that President Putin is already rigging the resultsKaruki said.
The ambassador of Great Britain emphasized that in 1991 these territories voted for the independence of Ukraine.
"But in 1991 the population of these regions voted for the independence of Ukraine, they supported President Zelensky in 2019. Given free will, their choice is obvious – to be part of a free, independent, democratic Ukraine. After the invasion, control of these regions was through violence, torture, infiltration and forced deportation. We've all seen the photos of soldiers with assault rifles accompanying ballot boxes during house-to-house canvassing and forcing Ukrainians to participate in it. Referendums held at gunpoint cannot be called free and fair," Karuki explained.
He also stressed that Putin should immediately stop the war against Ukraine.
"A referendum on such a fundamental issue can be announced three days before it begins in a region where war is ongoing – it's just a farce. This is Russia's attempt to illegally annex Ukrainian territories and we support the draft resolution presented by the USA and Albania. Now is a critical moment and no member of the UN should turn a blind eye to what the Russian Federation is doing. If we allow Russia to change the borders of a sovereign state by force, then the entire world security system will be at risk. These "Potemkin" referendums, as well as Putin's decision to mobilize men for this war, are a manifestation of his recognition that the invasion is illegal. Putin must end this senseless war," said Britain's ambassador to the UN.
We will remind you that the Security Council of the United Nations dispersed Russia for "pseudo-referendums" in occupied Ukraine.
Read also:


Source link https://tsn.ua/ato/zaraz-kritichniy-moment-postpred-britaniyi-pri-oon-nazvav-farsom-putinski-referendumi-2167702.html