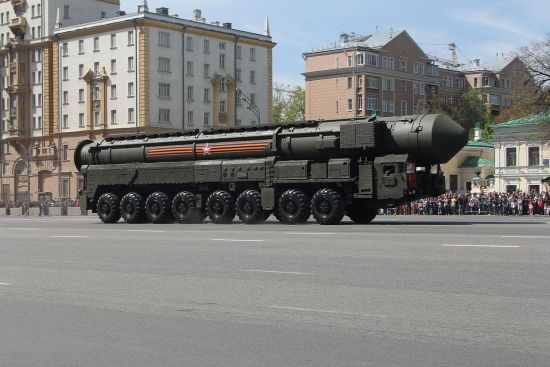 Today there is information about the placement of Russian nuclear weapons in the Kaliningrad region and in the occupied Crimea. At the same time, there are no weapons of mass destruction on the territory of Belarus.
Potential placement points nuclear projectiles become known and should be targets for pre-emptive strikes.
Oleksandr Musienko, director of the Center for Military Legal Studies, said this told on the air of "Radio NV".
"In order to move nuclear warheads, nuclear weapons, there must be (sustained – ed.) special regimes for their preservation. Accordingly, they cannot simply be left in some warehouse, in a field with boxes of other projectiles. That is, the potential placement points of such nuclear projectiles become known Accordingly, they should be targets for preventive strikes," Musienko noted.
According to him, there are currently no nuclear weapons on the territory of Belarus. However, there are data on its location in the Kaliningrad region and the Crimea. In particular, we are talking about Feodosia-13 – relevant the facility is located between Feodosia and Sudak.
"There was just a military unit there. But after the occupation of Crimea in 2014, Russia began to restore it, carry out repair work there. And even before the full-scale invasion, there were statements from the Ministry of Foreign Affairs and the Main Directorate of Intelligence of the Ministry of Defense that Russia could create the appropriate infrastructure and , perhaps even already transferred tactical nuclear weapons directly to the occupied Crimea," the expert reminded.
Earlier it became known that The US has increased intelligence to monitor Russia's nuclear arsenal. Musienko thinks that the information received will become known to the Armed Forces.
The expert also said that to destroy tactical nuclear weapons or other munitions the Ukrainian military needs long-range missiles.
"Ukraine must be able to preemptively destroy possible means of delivery of such weapons, artillery systems and warehouses with ammunition, and potential locations of nuclear weapons ammunition warehouses that may be on the occupied territory of Ukraine. This is primarily about the occupied Crimea," Musienko said.
We will remind, according to the estimates of the military expert Oleg Zhdanov, the US Lend-Lease program for Ukraine, which should become operational as early as October 1, will help counter nuclear threats from Russia.
Read also:


Source link https://tsn.ua/ato/navit-v-ukrayini-ekspert-rozpoviv-de-rosiya-mogla-rozmistiti-svoyu-yadernu-zbroyu-2168308.html