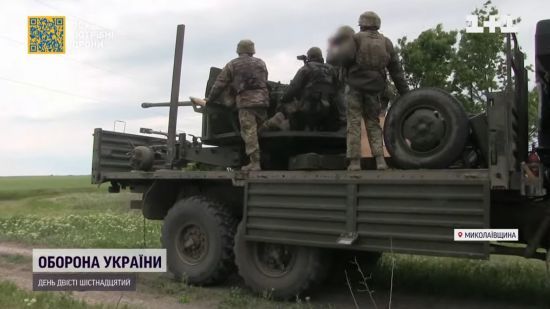 It is difficult, but persistently, our military is moving forward in Mykolaiv region and Kherson region.
The enemy is resisting in the South, but the defense is cracking due to fire damage by our artillery and aviation of ammunition depots. They beat the Rashists with everything from rifle to aviation and artillery, it is said in TSN.
Yurko is the driver of a trophy KAMAZ with a heavy gun in the back. On board a crazy foursome – a combat calculation directs the cannon to the target. It is called both a "mower" and a "beast" – a 57 millimeter Soviet model fires 4 shells in a matter of seconds. With this weapon, it was possible to thin out foreign fortifications and occupy them. "The gun is very old, but it can be used by light armored vehicles and works great on manpower, if along the landing, then the landings are ours," says the "Student"
The occupiers are clinging to every meter of Ukrainian black soil in Mykolaiv Oblast. Their cannons destroy all the villages in the range of their projectiles. "They know very well that people are peaceful in the villages, as their drones fly," the fighters insist.
In the crazy four – Ihor is the oldest fighter, he is 48 years old, he fought in the ATO in 2015, he was an anti-aircraft gunner. And here he is a gunner, having to fight under fire and constantly risking his life. "Well, it's scary, there's always fear, but we have to fulfill our tasks, drive these orcs out of our borders, and take our Crimea," Igor is certain.
With heavy battles, you have to advance meter by meter. All the land in the Mykolaiv region and in the neighboring Kherson region is washed with the blood of our defenders. The occupiers are trying to hold on at any cost, our army forces are knocking them out with everything they can – from heavy artillery to aviation. Support from heaven is very important, but more important is support from relatives, say the warriors standing in the steppe.
Read also:
Ukrainian artillery cuts the supply chains of Russian troops in Donetsk region
The Kremlin's nuclear blackmail: will Putin move from threats to action
Circumferendum in Mariupol: the occupiers said that they will announce the "results" today – Andryushchenko


Source link https://tsn.ua/ato/zemlya-na-mikolayivschini-i-hersonschini-omita-krov-yu-zahisnikiv-biyci-vazhko-zabirayut-teritoriyi-2166367.html