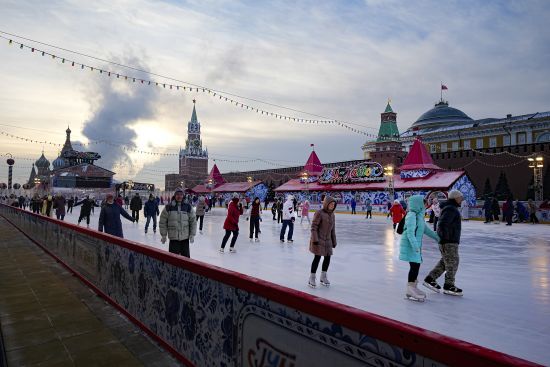 In festive events for adults, the Kremlin ordered "restraint in spending", and children will be brainwashed with slogans about the patriotism of the occupiers
In Russia this year, the Putin regime ordered local authorities to save money on New Year's celebrations, but to emphasize the "heroism" of the occupiers.
A Russian publication writes about it "RBK".
When organizing children's Christmas trees, the Kremlin "recommends" keeping the traditional format, and any restrictions are recognized as "extremely undesirable". During children's holidays, the Putin regime ordered the brains of young Russians to be zombified, recalling the "heroism of the defenders of the Motherland" (that is, the occupiers, war criminals on the territory of Ukraine. – Ed.)
In festive events for adults, the Kremlin ordered "restraint in spending." Regions and municipalities are invited to congratulate families of occupiers with children on the New Year; collect and send greeting cards to the invaders on behalf of their families; to congratulate wounded Russian soldiers in hospitals.
Russians will collect and send gifts to the occupiers at New Year's fairs.
In the tradition of the Soviet Union, the Kremlin orders the formation of agitation brigades (including Santa Clauses and Snow Maidens) to welcome the Russian occupiers on the territory of Ukraine "in subordinate military units". In the very parts, the Russian authorities advise to install Christmas trees with toys "in the form of wishes from children", as well as toys that children have made with their own hands.
To participate in concerts or new television programs, Putin ordered to support artists of the so-called "patriotic orientation" – that is, those who openly supported the aggression of the Russian Federation against Ukraine.
The list includes such performers and bands as: "City 312", Polina Gagarina, Oleg and Rodion Gazmanov, Victoria Deineko, Larisa Dolina, Yaroslav Dronov (Shaman), singer Zara, the band "Zemlyany", Hryhoriy Leps, Denys Maidanov, Oleksandr Marshal , Stas Pieha, Mykola Rastorguev, Oleksandr F. Sklyar, Garik Sukachev, Vadym Samoilov, Svitlana Surganova, Yulia Chicherina, Uma2rmaH.
Earlier it was reported that 74% of Russians expressed their opinion for the continuation of the war of the Russian Federation against Ukraine.
Russians are being prepared for "collective responsibility"
We will remind that there are famous Russian propagandists Olga Skabeeva and Margarita Simonyan they scared the Russians with the fact that in the event of the defeat of the occupiers in the war, all residents of the Russian Federation would be threatened by the Hague Tribunal.
Russian publicist and sociologist Andriy Piontkovskyi explained that propagandists of the Russian Federation are in a panic. Even the representative of the so-called "fascist camp", propagandist Zakhar Prilyepin, advocated negotiations with Ukraine.
At the same time, the Network drew attention to the fact that rosTV had started to discuss a new potential victim of aggression – Kazakhstan. Propagandists of the Russian Federation said that "Nazi processes" may begin in this country.


Source link https://tsn.ua/svit/strimanist-u-koshtah-i-vihvalann-okupantiv-yak-kreml-nakazav-rosiyanam-svyatkuvati-noviy-rik-2216053.html