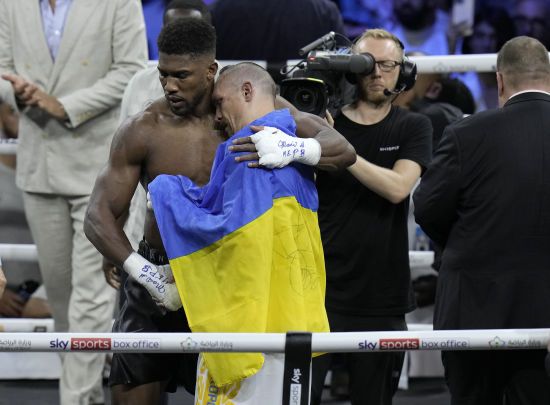 WBA, WBO, IBF and IBO heavyweight champion Oleksandr Usyk told how he reacted to Anthony Joshua's hysterical behavior after their second fight.
Hearing from the judges that the verdict was not in his favor, AJ was extremely disappointed and threw Usyk's championship belts outside the ring. According to the Ukrainian, the British boxer should not be condemned for this emotional act.
"The guy broke down. I don't think you can judge him for that. He trained, he believed in something, and then he lost for the second time. Joshua was in very good shape. But we were a little bit better. He got a little carried away. He said a lot of incomprehensible words, but i think he is a good person.
You know what I thought when he threw two belts out of the ring? "Hmm, fool." I thought: "Sick or what? Why are you babbling them?". It's like when you weren't given a ball to play with, but you took it and kicked it over the neighbor's fence, where the angry dog ​​is." – Usyk said in an interview with the USYK17 YouTube channel.
On the night of August 21, 2022, Usyk by split decision of the judges won Joshua in the rematch, which took place in the city of Jeddah (Saudi Arabia). Thus, the Ukrainian defended all the titles that selected at AJ's last fall, and also won the vacant belt of The Ring magazine.
Earlier, Usyk said that he is only interested in a fight with Fury for the title of absolute world champion. At the same time, the Ukrainian said that already this year does not plan to enter the ring. The Crimean intends to heal old injuries and fully recover after the rematch with Joshua, as well as spend time with his family. Fury replied Joshua offered to fight in December this year.
Now 35-year-old Usyk has 20 victories (13 by knockout) in 20 fights. He spent four of them in the heavyweight division. Before that, Oleksandr became the absolute world champion in cruiserweight (weight category up to 90.7 kg), winning all four of the most prestigious belts there.

32-year-old Joshua has 24 wins (22 by knockout) and three losses. AJ lost for the first time in June 2019 to Andy Ruiz, but in December of the same year he defeated the Mexican in a rematch and regained the titles.

34-year-old Fury has 32 wins (23 by knockout) and one draw.
Read also:
Usyk admitted how many more fights he plans to have before the end of his career and named his preferred opponents
Usyk expressed his admiration for the Ukrainian military and compared the tactics of the Armed Forces of Ukraine with his own
"At the end of the 9th round, I missed and swam": Usyk talked about the most difficult moment in the rematch with Joshua


Source link https://tsn.ua/prosport/hvoriy-chi-scho-usik-prigadav-svoyu-reakciyu-na-isterichniy-vchinok-dzhoshua-pislya-revanshu-2164606.html