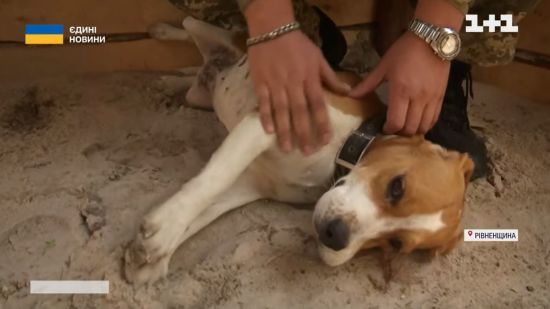 Lori's dog warns in advance about missile danger, drives away strangers, and at the same time serves as a freelance psychologist in the unit.
Four-legged Lori became a mascot and combat friend of the 104th Terrodefense Brigade in the Rivne region. She went to the army together with her owner and became a service dog from a house dog. Currently, it watches over the Belarusian border and immediately notifies the military at the slightest danger, it says TSN.
Before the full-scale war, Lori – a beagle breed – was a domestic dog, and joined the army together with her owner. Comrades from the brigade wonder how the dog has changed in the army. "Of course, Laura's potential has opened up, I didn't expect it myself. She was an ordinary pet before that," says the border guard.
The fighter with the call sign "Khata" is a dog trainer, it was he who undertook the military upbringing of Lori. "Whimsical, like all girls, she still does not understand all the canons of military service. Discipline is a little lame in her," says the dog trainer.
He adds that despite this, she is diligent – Lori herself mastered what she was not taught, she began to warn about the threat in advance. "When there is a missile danger, it warns. She starts barking and spinning," the siblings say.
And he knows everyone in the unit, so he lets you know about strangers in a second. And here they call Lori a freelance psychologist, no one remains indifferent when she suddenly wants to have fun.
Although the fighters admit that sometimes Lori can quietly eat cookies, or she sometimes misses the socks after her guests, they do not scold her for her bickering. They say she is not just a dog, but a combat friend. And they say they will develop her curiosity about everything around her – they see the potential in detecting explosive objects. "She has a very good sense of smell, in the future we will teach her to search," says the dog trainer.
Read also:
Russia does not attack Kalibrs and Iskanders: the Air Force explained why Moscow protects them
Mobilization has begun in occupied Mariupol: men are called to report to the Military Commissariat
Rocket attack on Pervomaisk: Russians killed seven local residents


Source link https://tsn.ua/exclusive/lori-2166637.html