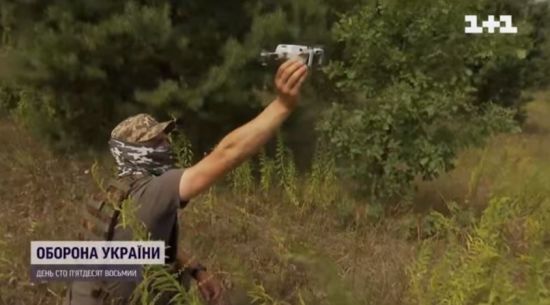 The war of drones and artillery – this is how the world calls the current stage of the Russian-Ukrainian war.
It is in Ukraine that drones have become the most powerful weapon in the last five months, and their pilots are now being hunted by the enemy no less than snipers. The Ministries of Defense and Digital Transformation are currently looking for any opportunity to turn yesterday's infantrymen or machine gunners into drone operators. TSN.
Vitaliy, Yuriy, Artem and "Racoon" – two border guards, one policeman and one infantryman, and now – drone pilots. And these guys now cover their faces in any shooting.
"It's the most dangerous profession right now, because drone pilots are hunted very hard, so you need camouflage, camouflage, camouflage," says the Raccoon.
They only had a week of training in the classroom and in the field, and today is the final exam.
Dons and Prometheus are civilian UAV pilot instructors. Six months ago, they did not even encounter the army. In civilian life, drones were their hobby, and sometimes their work. After the full-scale offensive of the Russians, they were not the first to realize that their skills could help the Ukrainian fighters. "After the first 10 days of active fighting, the boys returned from rotations and said that without drones there is nothing to do at all," says the deputy director of the Prometheus educational center.
And at the same time, volunteers began to buy drones everywhere and open courses for military pilots throughout the country. Currently, in Ukraine, up to two thousand soldiers learn to operate them in just one month. And they make good pilots, the instructors say. "There is a joke that when the Taliban see what the Ukrainians are doing with drones, they sign up for the TrO," laugh the instructors.
Meanwhile, Vitaliy, Yuriy, Artem and "Raccoon" split into pairs. Each group has its own task – some from the sky are looking for a conditional supply of enemy ammunition, others – the enemy DRG.
Vitaly and Artem quickly searched the building. Now their task is to help their brothers complete the task. However, first the relocation. They run from the bushes to the landing, launch drones into the sky, lying on the ground.
The enemy DRG cannot be detected on the ground, but the guys come across its drone in the sky. In the rest, he can lead them to the goal. "The drone is already our enemy, because someone controls it. And it is clearly controlled by the enemy," the pilots say.
"Now, I think, if you tell the soldiers of the past, of the Second World War, how we are fighting now, they would not believe it, they would think that it is white fever, I don't know that it is fiction," the guys convince.
Read also:
A small fund from the USA has already collected $35 million in aid for Ukraine and rented planes to deliver it
The special purpose unit "Lubart" returned home on rotation without any losses
A real "ghost" and terror for enemies: friends told about the fearless battles of the fallen heroic attack pilot


Source link https://tsn.ua/ato/vse-bilshe-biyciv-stayut-pilotami-droniv-hocha-na-nih-vorog-ogoloshuye-polyuvannya-2123248.html