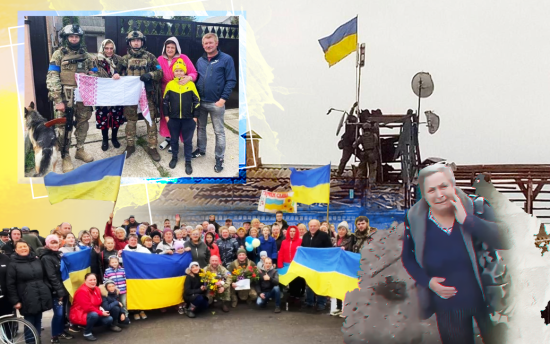 The Ukrainian military continues to heroically liberate its homeland from the Russian invaders.
On de-occupied from Russian troops, local residents meet Ukrainian defenders with tears in their eyes and many on their knees.
As a sign of gratitude, people rush to hug the soldiers, express their thanks and treat everyone to the tastiest food they have.
Almost the entire village of Boguslavka, in the Kharkiv region, gathered to meet the Lviv paratroopers of the 80th brigade. People greeted their liberators with flags, tears and flowers. Then everyone performed the National Anthem of Ukraine as a group and took a collective photo as a souvenir.
In the following video from the liberated territories of Ukraine – people who were under occupation for half a year. The locals lived without electricity and communication and did not know what was happening in Ukraine. The Russians forced them to work for food and threatened them with massacre.
In occupation…Lived without electricity and communication for six months. Had no idea that Kyiv withstood and the whole world was supporting them. They were forced to leave houses and work for food. Were threatened: "if returns, you'll be executed". Now they are at home. pic.twitter.com/kEVSEx97n4

— Mykhailo Podolyak (@Podolyak_M) September 14, 2022
The Armed Forces of Ukraine knocked out the enemy from the Donetsk estuary and on October 2 reported that the city was completely cleared of invaders. Local residents did not hold back tears after meeting with Ukrainian defenders.
In the liberated village of Novopetrivka, Kherson Region, locals greeted the defenders with apples, and one of the women asked the soldiers of the Armed Forces of Ukraine where they had been for so long and hugged the liberators sincerely and with tears.
The Ukrainian defense forces liberated the village of Borov in the Izyum district of the Kharkiv region and most of the Borov community. There, soldiers were even greeted with embroidered towels.
When the children notice the Ukrainian military, they also run headlong to the cars with the soldiers. Defenders treated children with sweets in the village of Kivsharivka in Kharkiv Oblast.
In September, the Armed Forces liberated Balaklia, in Kharkiv Oblast. There, the locals hugged the liberators, and it seems that they did not fully believe that they were standing next to them. When the military entered the city, people shouted "Glory to Ukraine" on both sides of the road, and some knelt down. "We have been praying for half a year for you to come back to us," said the local women and immediately decided to feed the soldiers with pancakes.
We will remind, as of October 4 in Ukraine more than one and a half thousand settlements were deoccupied. Only since the beginning of October, the Defense Forces of Ukraine have already been freed from the Russian occupiers more than 400 square kilometers of the Kherson region.
Read also:




Source link https://tsn.ua/exclusive/zi-slozami-navkolishki-i-gimnom-ukrayini-yak-miscevi-zustrichayut-zahisnikiv-v-deokupovanih-selah-i-mistah-2174185.html