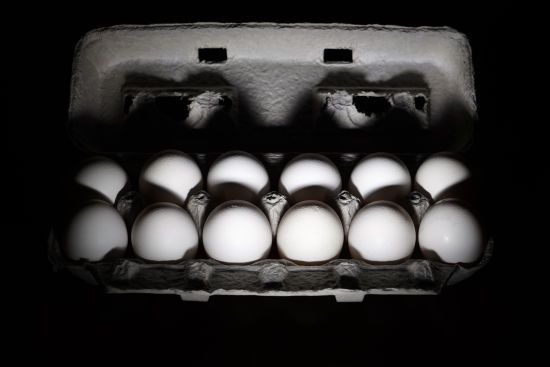 The increase in the price of eggs is due to objective reasons.
Back in August, the average price of a dozen eggs was UAH 28.5. And in September, in some stores, they rose in price by 72% – up to UAH 49. And since the beginning of October, the price trend has not changed.
Experts assume that by the end of the year, eggs will cost about UAH 100 per dozen.
About this writes RBC-Ukraine.
The main reason for the price increase is the seasonal factor, believes financial and economic columnist Bohdan Slutsky. During the autumn-winter period, the price of eggs traditionally increases, as the demand for them increases and the supply on the market decreases.
In addition, the volume of egg production began to fall not only in connection with the change of season, but also with the termination or significant reduction of the activities of enterprises that created an offer on the market of chicken eggs in Ukraine.
Another reason is that feed is becoming more expensive. Since the beginning of August, due to the growth of grain exports due to the "grain agreement", the demand for Ukrainian agricultural products on the foreign market began to grow. The cost of grain on the market is increasing, which in turn increases the cost of egg production and, as a result, retail prices.
How much will the eggs cost?
Experts predict that eggs may increase in price by the end of this year by another 15-20%.
Therefore, the average cost of a dozen chicken eggs at the end of the year will cost about 60 hryvnias. At the same time, the cost of the top ten category of chicken eggs may come close to the mark of 100 hryvnias.
Earlier, Oleksiy Doroshenko, director of the Association of Retail Network Suppliers, warned that cost of chicken eggs will grow significantly in a few months. We should also expect an increase in the prices of borscht and dairy products.
Vv Ukraine is expected in the near future rising prices of products food by another 10-15%. The increase in prices is influenced by the war, the disruption of logistics chains, the prices of fuel and lubricants, and the exchange rate of the hryvnia against the dollar.
We will remind in the summer of 2022, the annual rate of the inflation index reached 20.1%. At the same time, the prices of raw products, cereals and meat rose the most.
In addition, the income of Ukrainians seriously decreased due to the war. National Bank in the inflation report, in particular, for July, it states that in general, nominal wages in 2022 will decrease by 12%.
Read also:


Source link https://tsn.ua/groshi/kuryachi-yaycya-za-100-griven-eksperti-poperedzhayut-pro-zrostannya-cin-2174011.html