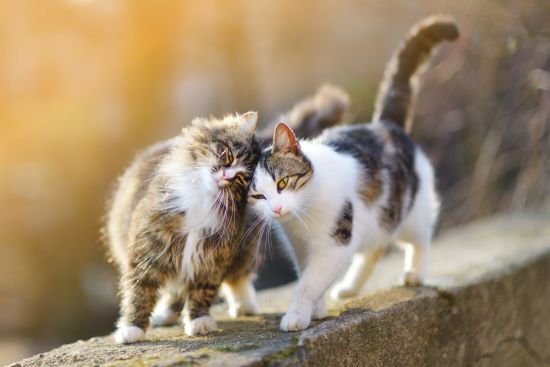 There are not many diseases that can be transmitted from a cat to a person, but they are dangerous. Therefore, pet owners need to know what cats can get infected with, the symptoms of dangerous diseases and how to protect themselves from them.
We talk about the most common diseases transmitted from cats to humans.
Rabies
One of the most dangerous diseases for both animals and humans, which is transmitted through the bite of an infected animal. In cats, this disease is not treated, for prevention, vaccination can be done.
Symptoms of rabies appear on average after 10 days from the moment of infection – this is aggression for no apparent reason, often increased salivation. The cat begins to be afraid of the light, convulsions resembling an epileptic attack appear, the animal's paws can be paralyzed. For any of these symptoms, you should see a doctor immediately.
Worms
Worms are not as dangerous as rabies, but a very common disease. Even cats that stay only in the apartment are not immune from worms. There are quite a few ways of infection – through food, water, after contact with other animals, through shoes on which worms can be brought into the apartment from the street. That is why veterinarians recommend deworming once every 3 months.
Signs of the disease can be increased weakness, indigestion, darkening of the pet's coat, itching in the anus, decreased appetite or a noticeable increase in it, weight loss.
Cat scratch disease or felinosis
The disease occurs when the human skin is damaged by the cat's claws, under which the pathogen is located, which is able to penetrate into the cells of blood vessels.
Symptoms include high body temperature, regular unexplained headache, swelling of lymph nodes, redness of the skin in the area of ​​scratches, swelling and suppuration of this area.
The presence of the disease can be detected in a cat only by signs that occur in humans.
Ringworm
Infection with the microscopic ringworm fungus occurs after contact with a sick cat, it is enough to pet it or contact an object where the pathogen remains to catch ringworm.
Symptoms are bald spots on the cat, while the skin in these places turns red and begins to peel. The face of the pet is often affected, as well as the tail and limbs. People have similar symptoms — one or more spots appear, the skin turns red.
Chlamydia
A person can become infected with these diseases through airborne droplets.
Symptoms are loss of appetite, inflammation in the eyes, coughing and sneezing, significant weakness and increased fatigue, wheezing, purulent discharge from the eyes and nasal cavity.
If chlamydia is not treated after the first symptoms appear, the cat can quickly die from pulmonary edema. In humans, chlamydia manifests itself as acute inflammation of the lungs.
Protozoan infections
The source of these infections are unicellular organisms. The most common protozoan diseases in cats and humans are cryptosporidiosis, giardiasis, and toxoplasmosis.

Toxoplasmosis
Cats can transmit toxoplasma to humans through feces, while cleaning the cat litter. Symptoms of toxoplasmosis include muscle aches and cramps, as well as a flu-like headache. In isolated cases, more complex symptoms such as convulsions, vomiting or diarrhea may be observed. Toxoplasmosis is very dangerous for pregnant women. With early infection of the fetus, there is a miscarriage, intrauterine death of the fetus or the birth of a child with severe damage to the central nervous system, eyes and internal organs.

Cryptosporidiosis — an intestinal infection characterized by the development of watery diarrhea and fever. Mostly children are sick.
Main manifestations giardiasis – these are allergic and pathological neurological reactions.
Salmonellosis
Salmonellosis in a cat can be recognized by the characteristic symptoms — a sudden increase in body temperature, loss of appetite, lethargy, drowsiness and increased fatigue, the presence of pus in the eyes and nose, increased salivation, problems with respiratory function, nausea and vomiting, diarrhea with blood impurities. When a person is infected with salmonellosis, there will be signs of acute poisoning.
Salmonella is more common in cats that eat raw meat or wild birds and animals. Human infection can occur in the process of collecting cat litter. The causative agent is excreted in the feces of infected cats. It is important to provide help as quickly as possible to both the animal and the person when the first symptoms appear.
Prevention of infection with diseases of cats
To prevent infection, doctors recommend:
Wash your hands before eating and after interacting with and caring for cats.

Clean the cat litter with gloves.

Vaccinate cats against rabies regularly.

Treat cats regularly with flea products.

Do not allow the cat to lick open wounds, your face, dishes.

If there is scratching, slime, immediately wash the wound under running water. If there are signs of inflammation, suppuration, enlargement and tenderness of the lymph nodes at the site of the bite or scratch, seek medical help.

Try to keep the cat indoors, exclude the possibility of contact of cats with animals on the street.

Do not allow the cat to come into contact with rodents.

Do not allow cats to drink water from puddles.

Do not feed cats unprocessed fresh meat or fish.

Persons with a weakened immune system who are at risk should avoid contact with cats.

Choose sandboxes that close for children.
Read also:


Source link https://tsn.ua/zdorovya/chim-mozhna-zarazitisya-vid-kishki-2164417.html