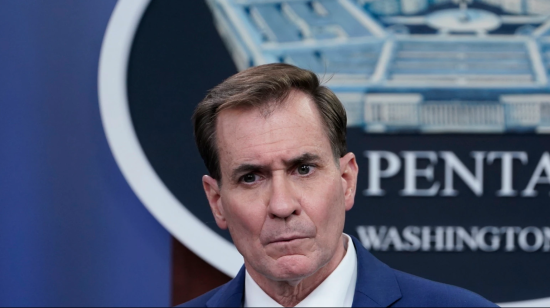 The White House stated that there were no signs that anything sent to Ukraine "could have fallen into the wrong hands."
USA do not have any confirmation that the budgetary or defense support of Ukraine could somehow be affected by corrupt actions in this state.
The coordinator of the National Security Council of the White House, John Kirby, announced this at a briefing on January 25.
"Budget aid (for Ukraine – ed.) is channeled through the World Bank. And we are confident in this process," the White House representative said.
In this way, he answered the journalists' question whether the American administration is confident that corruption in Ukraine has not affected foreign budget support.
"We obviously we share the concern of President Zelenskyi about these allegations of corruption, and he clearly takes it seriously. It is important. We will certainly give him the opportunity to go through it," added Kirby.
He emphasized that corruption in Ukraine did not affect the financial and military aid provided by the United States.
"We have not seen any signs that our budget support has been affected from any manifestation of corruption in Ukraine, and I would go even further to say the same about assistance in the field of security – weapons and systems," said the representative of the White House.
He also reported that there were no signs that anything sent to Ukraine by the US "could have fallen into the wrong hands or been misused."
What kind of corruption are we talking about?
We will remind you that the publication ZN.UA published an article about the fact that the officials of the Ministry of Defense of Ukraine, as it were buy food for the Ukrainian military two or three times more expensive than in stores. In particular, it was about the purchase of eggs at UAH 17 per piece.
Minister of Defense Oleksiy Reznikov called the accusations of abuse manipulation and promised to check everything in detail. At the same time, NABU reported that they had started investigating the relevant facts even before they were published in the mass media.
After this scandal, Deputy Minister of Defense Vyacheslav Shapovalov resigned. He also got rid of his position director of the procurement department of the Ministry of Defense Bohdan Khmelnytskyi.
Subsequently Reznikov said that he answered all of them questions about the scandal to People's Deputies, members of the Parliamentary Committee on Anti-corruption Policy. In addition, the minister announced a food reform in the Armed Forces.
Let's add that in addition, the deputy head of the Ministry of Infrastructure Vasyl Lozynskyi became a participant in the case of embezzlement of budget funds for the purchase of generators. NABU employees caught Lozynsky taking a $400,000 bribe. He was dismissed from his post and placed under 24-hour house arrest.
Read also:


Source link https://tsn.ua/politika/u-ssha-ne-bachat-oznak-schob-vid-korupciyi-v-ukrayini-postrazhdala-yihnya-finansova-ta-viyskova-dopomoga-2251453.html