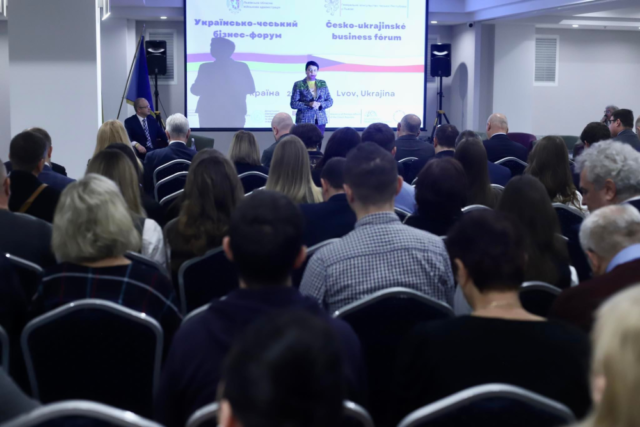 Today, September 27, the Ukrainian-Czech Business Forum started in Lviv.
Within the framework of the forum, they plan to discuss issues of bilateral cooperation between Ukraine and the Czech Republic in the trade direction, as well as cooperation and the search for new solutions for the export-oriented business of Lviv Oblast and relocated enterprises.
The head of the Lviv Regional Council, Iryna Hrymak, congratulated those present and thanked them for the opportunity to meet in a circle of like-minded people.
"We are open to cooperation, economic development. Lviv Oblast has always been a driving force, setting a good example of cooperation with business and international partners.
I believe that this meeting today is a good start for Ukrainian and Czech business, for new ideas and new achievements.
The authorities of the Lviv region are interested in creating the necessary conditions for the development of both Ukrainian and Czech businesses. We are ready to help you work here," Iryna Hrymak emphasized.
In his welcoming speech, the Deputy Minister of Industry and Trade of the Czech Republic, Eduard Murzytsky, expressed his support for Ukraine, which is also fighting for Europe, and stated that Ukrainians can continue to count on their help.
"More than 200 companies in the Czech Republic have already volunteered to participate in the reconstruction of Ukraine. In addition, we are interested in Ukrainian business representatives finding partners among our entrepreneurs," Eduard Murzytskyi said.
Ambassador Extraordinary and Plenipotentiary of the Czech Republic to Ukraine Radek Matula emphasized that the Embassy will promote Ukrainian-Czech relations: business, humanitarian, economic. According to him, the Czech Republic will always be a reliable partner and friend of Ukraine.
The Forum is attended by representatives of diplomatic institutions of both countries, regional authorities, the deputy corps, the Chamber of Commerce and Industry of Ukraine, business associations and organizations. The business is represented by the fields of mechanical engineering, construction, metalworking, as well as the service sector in the direction of engineering, energy, infrastructure, IT, real estate, jurisprudence.
Today, within the framework of the forum, Ukrainian and Czech businesses will have the opportunity and opportunity to hold preliminary negotiations in the B2B format, which may continue in the future as part of the trade mission of the Lviv region to the Czech Republic planned for this year.


Source link https://top-news.com.ua/mista/lviv/poshuk-partneriv-ekonomichna-spivpraczya-dopomoga-ukrayini-u-lvovi-vidbuvayetsya-ukrayinsko-cheskyj-biznes-forum/