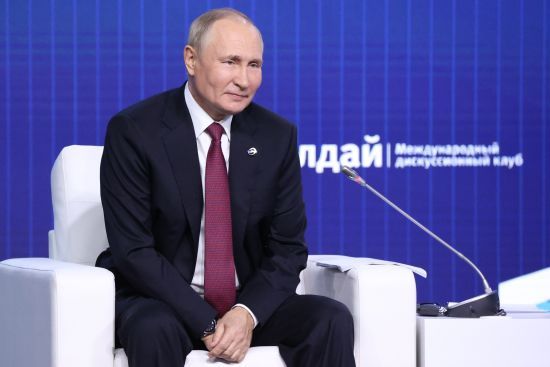 The expert emphasized that Russia's statements that it is ready for negotiations are fundamentally false.
Kremlin dictator Vladimir Putin firmly believes in the victory of Russia in war against Ukraine, as he cannot go against his ego. He believes in the lies that his system produces for the Russians.
Channel 24 is talking about it told political and economic expert Valery Klochok.
Yes, according to him, Putin is confident in what he is doing. He must continue to hold on to power and fulfill the goals he has set for himself.
"After the events in Kharkiv, which were dramatic for him, with the flight of the Russians, where a lot of military equipment was left behind, he managed to level the situation in Russia itself. Yes, it is a hundred to a thousand Russians killed every day, but he does not care. For him, the main thing is to stabilize the situation, and he stabilized it," the expert noted.
He added that Russia's statements about alleged readiness for negotiations are essentially false. Putin does not give up his goals.
According to a political and economic expert, Putin built a system of self-belief, propaganda and punishment in Russia.
"So far he manages to keep it, but it is a matter of time. I would like this time to be shorter, but, unfortunately, the world is not approaching the formation of tools and methods of pressure on Putin and his regime. The obvious solution is an oil embargo, which, by its very nature, will change almost nothing in Russia. However, the sanctions policy, Russia's economic decline, the destruction of Russians in Ukraine, funerals will play their role," Klochok summarized.
Russia's war against Ukraine
According to independent Russian polls citizens of the Russian Federation still support military actions against Ukraine. Thus, 41% of respondents are in favor of Russia continuing its military operations in Ukraine.
US Deputy Secretary of State Victoria Nuland emphasized that Putin resorted to massive missile strikes on Ukraine because of stern warnings from Western partners if he used nuclear weapons.
US Director of National Intelligence Avril Haynes said that Russian President Vladimir Putin doesn't really have it all figured out the complexity of the situation at the front for the Russian military.
Read also:


Source link https://tsn.ua/ato/svyato-virit-u-brehnyu-sistemi-politolog-pripustiv-chomu-putin-dosi-vpevneniy-u-peremozi-rosiyi-2215951.html