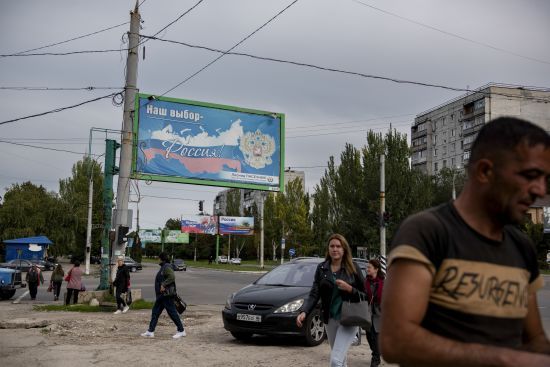 The results of the pseudo-referendums are not recognized even by the Kremlin's few allies, the expert reminded
Russia after the event so-called "referendums" in the occupied territories will try to join them according to the Crimean scenario, but the plans of the occupiers are hindered by defeats at the front. President of the Russian Federation Vladimir Putin will hardly dare to implement threats regarding the use of nuclear weaponsto change this situation.
A military expert told about it Oleg Zhdanov in the comment TSN.ua.
"The holding of the "referendum" was purely factual. It is impossible to actually hold a referendum, they don't know the voter lists. This is a complete fiction. They will also "join" these territories. They will write what they need according to the results of the referendum that was supposedly held, and announce it, and the State Duma will vote. We already went through this in 2014, when they annexed Crimea from usZhdanov noted.
In his opinion, the conduct of "referendums" will not affect the course of hostilities:
"The president clearly said that. We have advanced and will continue to advance. As we liberated our territories, we will liberate them as well. The whole civilized world, except for Russia, will consider these territories to be Ukraine."
A military expert admitted that Russia will threaten with nuclear weapons, "but it is unlikely that the Russian Federation, left alone against the whole world, will want to use it".
Zhdanov reminded that, according to some sources, even the self-proclaimed president of Belarus, Oleksandr Lukashenko, will not recognize these "referendums" due to fears of another wave of sanctions.
The expert also believes that after the "referendums" one should not expect the Russian troops to activate at the front.
"Today, the situation at the front is not in favor of the Russian Federation. We have even more advantages, we have a strategic initiative and we are taking offensive actions little by little. Russia is defending itself, today it cannot even escalate the conflict – it does not have the strength and means. To talk about the fact that tomorrow some events will begin on the front – no. We have success in some directions and are trying to develop it. Today, Russia is not in a position to escalate something or worsen the situation on the front," he explained.
We will remind you that Russia conducted military operations in the occupied territories of Donetsk, Luhansk, Kherson and Zaporizhzhia regions the so-called "referendums" on joining the Russian Federation.
Russian President Vladimir Putin said that supports the holding of pseudo-referendums and that the residents of the occupied territories allegedly themselves "expressed the desire to determine their own lives."
President of Ukraine Volodymyr Zelenskyi declared the impossibility of any negotiations with Vladimir Putin holding fake "referendums" in the occupied territories.
Read also:


Source link https://tsn.ua/ato/chi-spracyuye-u-putina-krimskiy-scenariy-zhdanov-pro-referendumi-na-okupovanih-teritoriyah-2167183.html